To Host or Not to Host. . .
In this day and age of "instant" everything and the hectic pace of life, I've noticed that one nicety seems to have all but gone the way of the dinosaur. . . the at-home dinner party. While so many factors contribute to the decline of entertaining at home, this is something which I am reconsidering and hope that you may, too.
While a beautifully appointed table and home are something which I revere and appreciate, my entertaining mantra is more about connection and hospitality. I will never forget the words celebrity party planner, Colin Cowie, told me years ago. "I don't care if you cook or order food in. Just make the best presentation you can and enjoy your guests." These words have stayed with me and I have adopted this attitude about entertaining.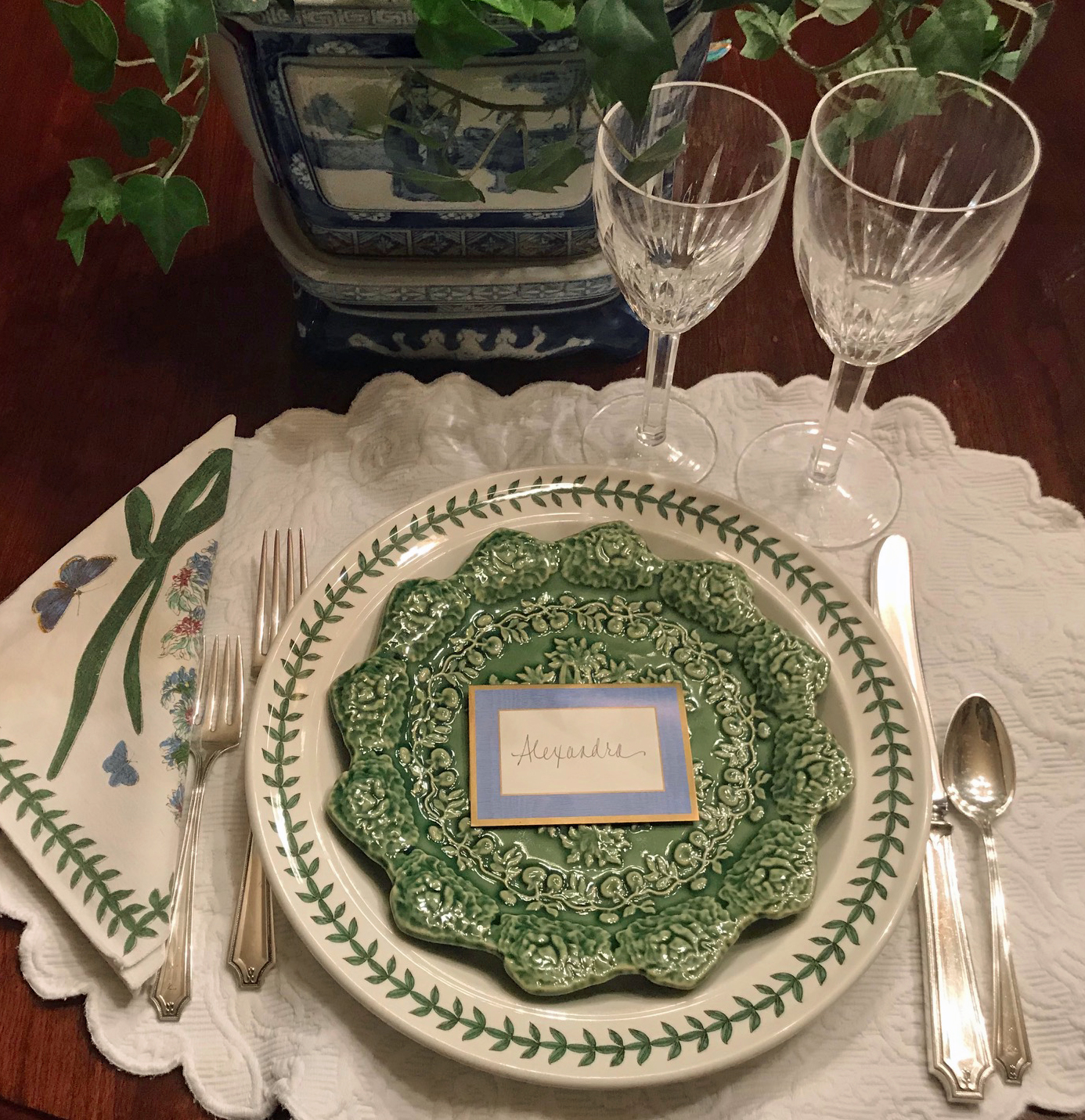 Keep it simple when it comes to meal planning. When cooking, prepare a meal you have made before. Being comfortable and confident in your ability to make a dish will help to make the process easier. Experimentation for company is only a stress inducer! The same goes for prepared food you may order. Keep to what you know and there will be no surprises.
Set the tone for your guests whether you host a formal dinner or backyard barbeque.
Put on your favorite music. When guests first arrive, it is a welcoming touch which lets them know a festive evening is in store. Keep the music going all night to enhance the ambiance.
Dim the lights – create a great atmosphere with soft light or candles.
Make your table attractive. I start from the bottom up, meaning choose your tablecloth or placemats as your base and create a tablescape from there. Choosing the dinnerware and flatware will add the next layer to your table. Do use cloth napkins, even for a casual meal – you're hosting a dinner party! Finally, end with the centerpiece. The centerpiece provides a focal point for your table. By centerpiece, I do not necessarily mean costly flower arrangements from the florist. A centerpiece can be created using a host of items you already have on hand. Decorative accessories, house plants or even fruit arranged attractively can create a beautiful table arrangement. Whether you use your best linens or casual placemats, a thoughtfully set table adds charm and character to any gathering.
While setting your table, don't forget the place cards! Place cards take away any awkwardness when guests come to the table. Plus, it allows you to make connections for your guests. I separate couples to really stimulate conversations.
True hospitality is subtle – it is making your guests feel comfortable and special which is the beauty of entertaining at home. Most importantly, it's your job to get the party started. Start the party with a good attitude and relax.
Let the fun begin!