Before You Order, Seal and Deliver …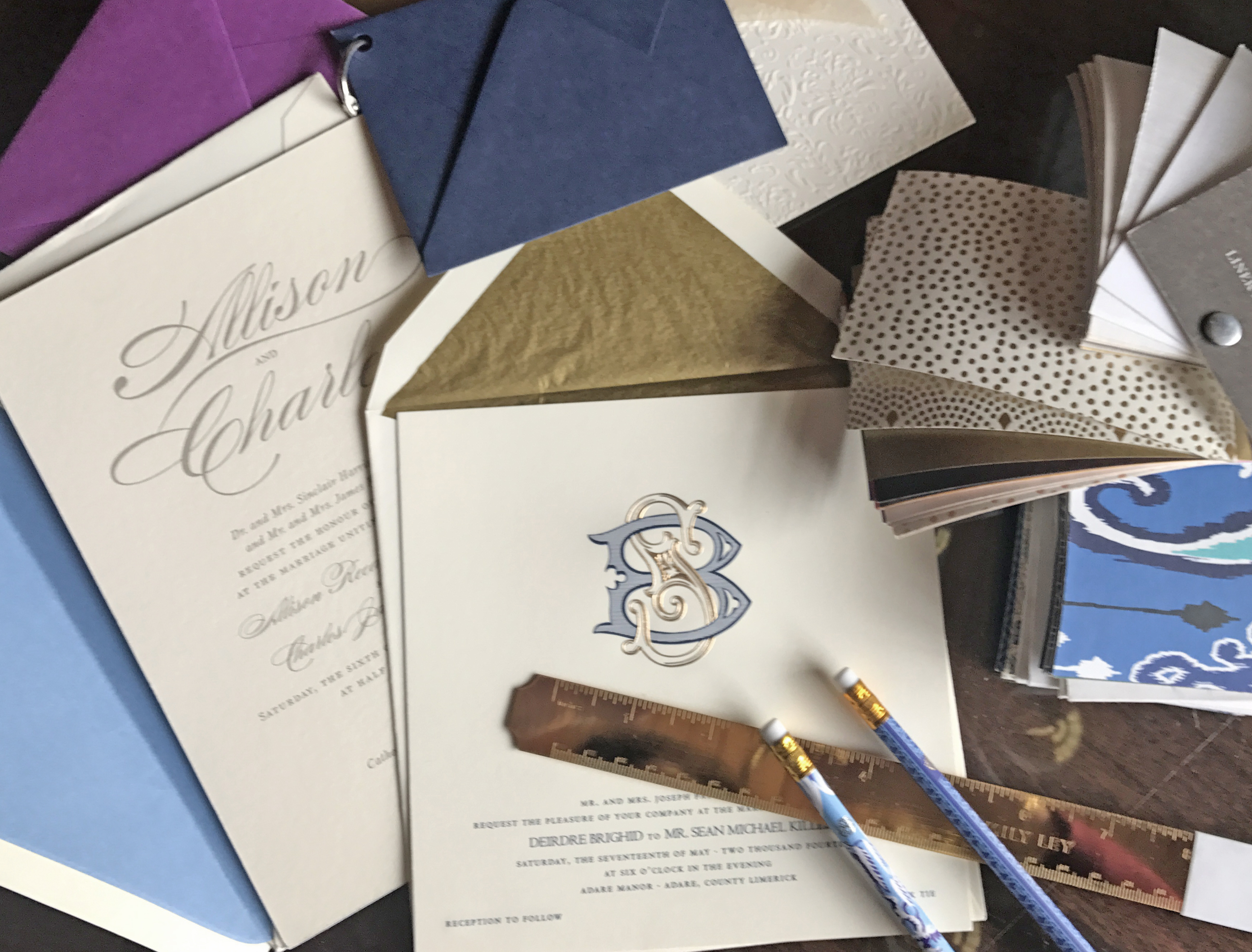 In my world, it is currently wedding season.  Many couples become engaged over the holidays and embark on their wedding planning during the winter months.  I am always delighted when I receive calls from brides, grooms and members of the family seeking information about wedding invitations.  The first inquiries are almost always the same so I thought I would share some simple tips for helping to make the process easier.
1. Plan ahead
This something that seems very obvious, but is often forgotten. No matter what style and look you require, time is necessary.  Wedding invitations take all forms, from formal engraved invitations to casual flat printed styles and production times vary.  Some invitation suites are more involved than others from the design process to the addition of embellishments. Also, with so many options available today, it will take you time to figure out your wedding paper style.
2. Know your details
When you are finally ready to order, be prepared with all of your details. You will need proper spellings, names, times, addresses, etc. in order to prepare your invitation order for production.   You can't imagine the countless times I have worked with a bride and/or her Mom and they do not know the Groom's middle name and/or its proper spelling!
3. Proofread your order carefully
After your order has been placed, you will be supplied a proof of your invitation before the order is printed.  A proof is technical term for a prototype of an image that is supposed to show you how it will appear before printing on the press. At this stage, you will be asked to check the details of your order for accuracy and to sign off on the proof, thus giving your approval for the invitations to go into production. This step really warrants your full attention, as it is an opportunity to double check every detail of the invitation suite.
4. Order extra
As with anything, it's important to allow yourself a bit of leeway when ordering the invitations needed for your wedding.  I never want to see my clients with boxes of leftover invitations after the wedding, but it's important not to cut your order too close.  First, since you are planning ahead, you may choose to invite some additional guests as the date gets closer and you want to be able to do so.  Second, whether you hire a third party to address the envelopes or you address them yourself, extra envelopes are always needed just in case of an error, an ink smudge or a guest's address changes.
5. Get the correct postage
Most invitations include multiple components and therefore do not mail at the basic postage rate.  For that reason, I always recommend waiting to purchase your postage until after your invitation suite is completed.  Be sure to assemble one complete invitation with all envelopes and inserts and bring it to your post office to be weighed – preferably at the same post office where you will mail all of your invitations.
6. Don't forget the thank you notes
With weddings come gifts, and you want to be prepared to show your thanks for the lovely treats that are sure to come your way.  I recommend ordering the thank you notes at the same time you order your invitations. You will save time and have one more "to do" item checked off of your list!
Most of all, have fun selecting your wedding invitations.  The invites are your first step in setting the tone for the type of event which is to follow.  Whether formal or casual, the possibilities are endless.
Happy planning!